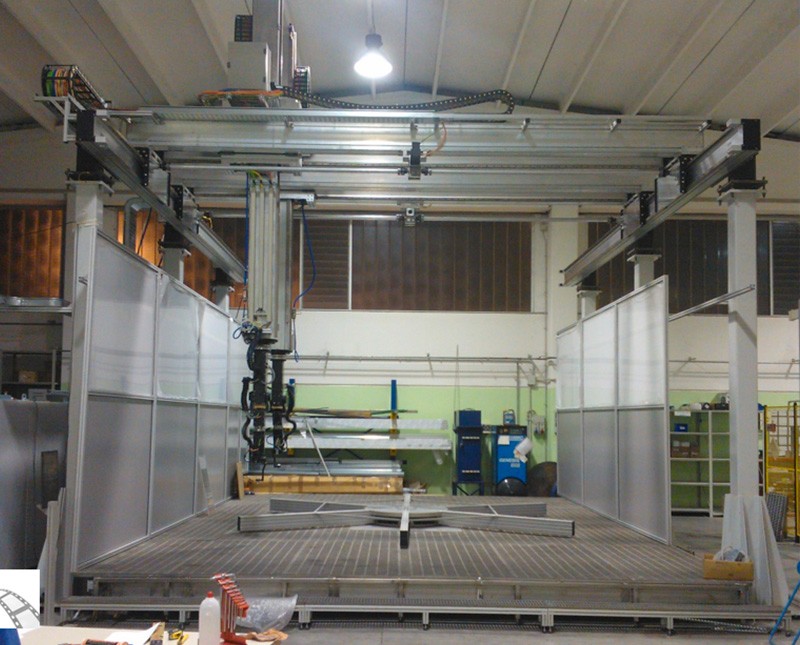 Main target
The need to reduce inspection times and check pieces with more complex geometries requires the use of technologically more advanced machines with greater flexibility. From this need, the idea of a machine equipped with a double portal and a kinematics with more degrees of freedom than traditional ones was born.
The ultrasonic control system allows you to check parts in composite material. The plant consists of 2 robotic arms with 4 degrees of freedom fixed to portals with 3 degrees of freedom and a rotating table on which the piece to be inspected is fixed. Below the structure there is a tank for collecting water.
The control system allows you to identify the geometry of the piece by points, calculate the optimal trajectories of the 15 axes of the plant to ensure the alignment of the transmitter and receiver along the normal to the surface of the piece, adjust the movement speed and synchronization with the ultrasound analysis tool, view and memorize the acquisition results.
Benefits
Innovative ultrasonic measuring machine for the certification of mechanical parts made of composite material.
The ultrasonic control method allows a non-destructive test of the mechanical parts, carrying out a total coverage of the volume, thus making it possible to detect internal defects.
Greater flexibility and faster tests on even large components and complex geometry.