Testing & Automation
Test Benches
{"@context":"http:\/\/schema.org\/","@id":"https:\/\/www.amet.it\/en\/solutions\/testing-automation\/#arve-youtube-qjatlgerl8i656933565b53a133252805","type":"VideoObject","embedURL":"https:\/\/www.youtube.com\/embed\/qjaTLgERL8I?feature=oembed&iv_load_policy=3&modestbranding=1&rel=0&autohide=1&playsinline=0&autoplay=0"}
AMET designs and provides equipment, automation systems and test benches for physical testing and characterization of mechanical and mechatronic products. Among our testing products, there are vehicle closures fatigue test benches, designed for side doors, trunk lids, hoods, tailgates, for passenger cars and commercial vehicles, usable in climate room over a wide temperature and humidity range, according to OEMs requirements.
AMET also designs and realizes end of line test benches, on-board devices and quality rigs, collaborative robot's applications, fluidic tests equipment (e.g. Gasoline Working Capacity GWC) and custom solutions according to specific requirements.
Reliability, low maintenance and ease of use (thanks to our control software, entirely developed by AMET) are the strengths that our customers recognize . We use the best automation technologies to perform millions of cycles at extreme temperatures and humidity and to always offer our customers the best.
Testing & Automation
Revamping Systems
Revamping is a restructuring operation of a machine that allows its reuse, remaining in line with the optimization of costs and available resources.
An efficient and modern machinery is the fundamental requirement to optimize production and increase the performance of a machine.
A Revamping intervention replaces the technological heart of a machine, updating it with cutting-edge technologies and modern solutions, maximizing efficiency and quality, while maintaining the starting structure.
AMET has extensive experience in "revamping" projects through electronics updates, improvements to mechanical components, software development, with the aim of reusing machines and therefore extending their useful life.
With targeted replacement of PLC, obsolete drives, remaking of electrical panels, cables and raceways on the machine, we increase our customers' production without them having to change their systems.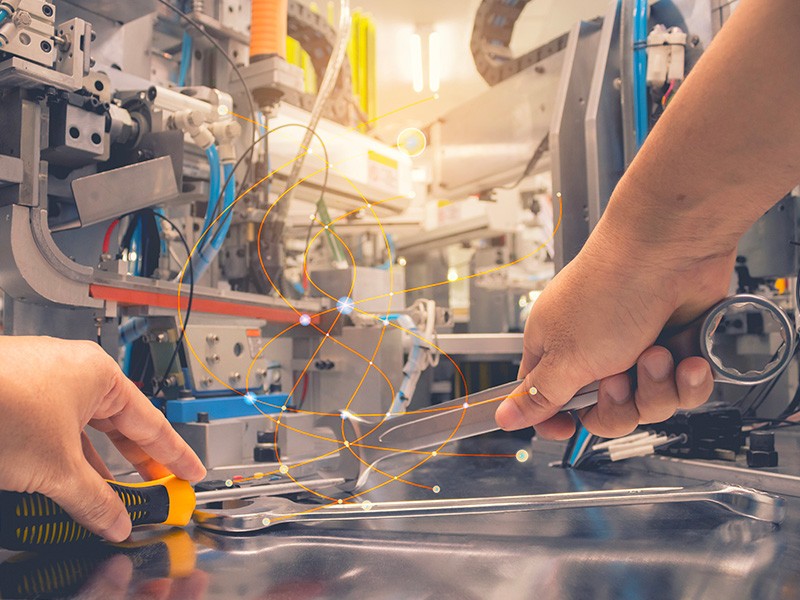 Increase in plant performance
Improvement of production flexibility
Cost savings compared to design from scratch
Testing & Automation
Systems automation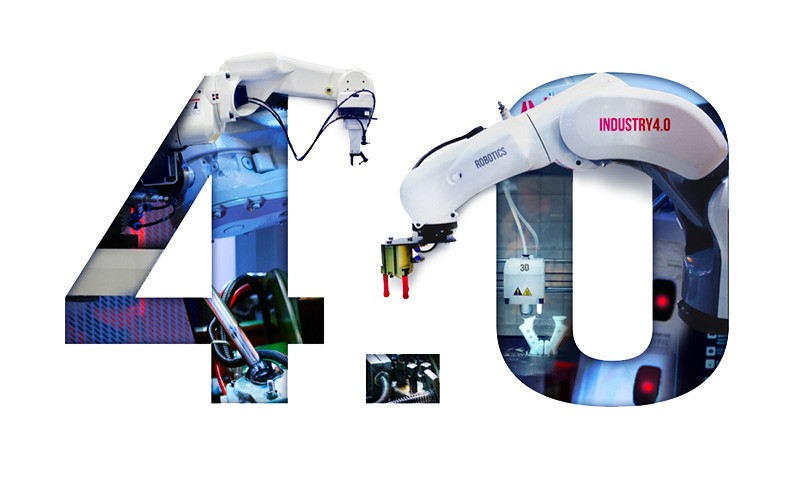 Software automation industry 4.0
AMET leads the industry towards the complete automation of the machines, thanks to the right compromise between mechanics and software, with a view to optimizing production times and costs.
Thanks to AMET's skills, the best cutting-edge technologies and solutions are offered to the customer, accompanying him from the early design stages to construction and final testing.
Through our team of internal developers it is possible to provide support on PLC programming or software on industrial computers, HMI, Robotics, Motion control, Supervision, Interconnection / Integration of machines and Mechatronics in general.
PLC
The PLC is the virtual brain of the machine, where the logic of the operation of each individual electrical and mechanical part is programmed.
HMI
The human machine interface is one of the most important components of the machine and unfortunately most underestimated by the manufacturers. AMET offers intuitive and simple to use interfaces in the complex world of commands, actions, diagnostics, choice of graphs to be displayed, formats and associated technologies.
Robotics
The advantages introduced by the use of a robotic arm on the production processes are manifold but depend largely on the quality of the control software, on which in turn the optimization of the investment depends.
Motion
We use all the movement technologies (asynchronous, brushless, linear motors) to provide the customer with the best solution even with extreme temperature and humidity conditions.
Supervisions
Machine monitoring is a fundamental activity in production and is responsible for its efficiency and for maximizing the cost / benefit ratio. AMET software can be perfectly integrated with the management systems used by customers, even by customizing them from time to time.
Mechatronics
Mechatronics, the discipline on which AMET is founded, is the core of our skills. The extensive use of mechatronic technologies of different nature means that AMET offers its customers innovative solutions with an increasingly high technological content.

Your expectation
When industrializing a new product, equipment or process, you want to integrate more functions and intelligence. Mechatronics is then an interesting approach.
Are you looking for a qualified partner to help you set up your project?
inform you on solution principles
have access to the state-of-the-art: what is possible today?
dispel technical uncertainties and associated risks
develop the product which will enable you to get ahead of your competitors while benefiting from the best profitability conditions
Our solutions
Our approach is structured around mechatronic design with intervention of AMET best experts:
functional analysis of needs
research for existing or innovative principles and solutions
definition of device architectures
design
manufacturing
integration tests
performance and qualification tests
technical and economical evaluation
Your benefits
AMET has a R&D department dedicated to mechatronics and a network of technological partners.
Through a unique project manager you reach a pool of mechanical, electrotechnical, electronic skills and talents in signal treatment and automation, testing, sensors and physical measurement.
Automated Warehouses & Parts inspection

Multistation assembly with integrated warehouse
Thanks to collaborative robots, smart grippers and artificial vision, automation becomes intelligent and able to manage various types of product without expensive and demanding mechanical configurations. By integrating the automatic multi-column warehouse with automation, the desired autonomies can be achieved simply by sizing the warehouse in the appropriate manner. The use of Cobots allows to avoid most of the fixed protections on the ground and by integrating an automatic warehouse it is possible to save up to 80% of the surface.
Assembly on vertical warehouse
By using the vertical magazine tray directly as a working volume, it is possible to manage various applications within the same automation, changing the type of tooling simultaneously with the tray.
Automatic handling for small parts inspection
Many industrial applications require inspections which are relatively simple but temporally expensive and with no added value. In order to integrate these operations at low costs, collaborative robotics becomes an obligation.
Modern collaborative robots can reach remarkable repeatability in the order of hundredths of a millimeter, guaranteeing extremely high quality standards that cannot otherwise be reached by the operator.
For small parts, blister management allows high autonomies in small spaces with handling managed directly by the cobot without additional hardware costs and therefore maintaining high flexibility.
AMET, Your engineering partner!
Testing & Automation